Activities
| | |
| --- | --- |
| Music Fill In The Blank | |
Thursday, 01 November 2007
Fill in the blank to complete these famous songs from the 30's and 40's.




(I Love You) For ____________ Reasons

I ______ Write A Book
I'll Be ________You

_________ Becomes You

__________ Will Say We're In Love

Some _______ Evening

That Old Black ________
The ________ Waltz

The ________ Of You

You're Nobody 'til ________ Loves You

Younger Than ____________

All I Have To Do Is ________

______ Me To The Moon (In Other Words)

_______, Young Lovers

I Left My Heart In ____________

I've Grown Accustomed To Her ________

In The Wee _______ Hours Of The Morning

Love Letters In The _______
The _______ Of You

________Coins In The Fountain

_________I Fall In Love

________In Paris

Dream A ________Dream Of Me

I've Got My Love To Keep Me ________


I've Got You Under My _______

My _________ Valentine

_____ Romance

The Very ________ Of You

The Way You Look _______


Click "Read More" for solution
Read more...
| | |
| --- | --- |
| 'Blind' Jigsaw Puzzles | |
Monday, 29 October 2007
Try doing a jigsaw puzzle 'blind'. Meaning, see how much of the puzzle can you complete without referring back to the picture on the box!
First, look at a picture of the completed puzzle, giving yourself a few minutes to commit it to memory.
Next, mix up the pieces to the jigsaw puzzle.
Now, work to put it back together without looking at the picture of the completed puzzle again (until you are done).
| | |
| --- | --- |
| Word Search | |
Monday, 08 October 2007
Dogs

Find and circle all of the words that are hidden in the grid.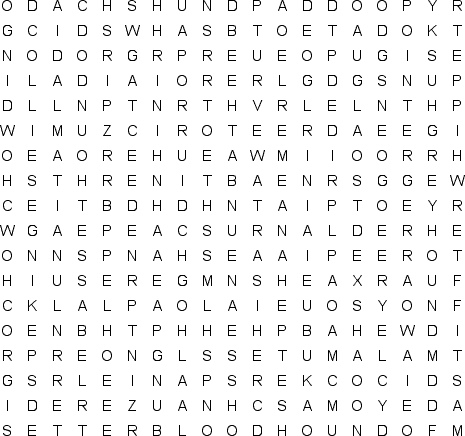 BASSET HOUND
BEAGLE
BLOODHOUND
BOXER
BULLDOG
CHIHUAHUA
CHOW CHOW
COCKER SPANIEL
COLLIE
CORGI
DACHSHUND
DALMATIAN
DEERHOUND
DINGO
GERMAN SHEPHERD
GREAT DANE
GREYHOUND
HUSKY
LHASA APSO
MALAMUTE
MASTIFF
PEKINGESE
PINSCHER
POINTER
POMERANIAN
POODLE
PUG
RETRIEVER
ROTTWEILER
SAINT BERNARD

View solution
Read more...
| | |
| --- | --- |
| Word Search Solution | |
| | |
| --- | --- |
| Card Match | |
Wednesday, 16 May 2007
Play using half a pack of standard playing cards. Remove 2 of the 4 suits, so you have just 2 aces, 2 kings, 2 queens and so on.

Start by laying out 24 of the cards, making sure the 24 cards consists of 12 matched pairs. Once face down, move the cards around so that you do not know where any single card is located.

Turn one card over at a time, take a look at the number or object, and then turn it face down again. Repeat this process until you turn over a card that matches a card you turned over earlier. Now find the card's 'mate' by remembering from earlier where it is located. As you find a matched pair, remove them from the group. The number of cards dwindles until all the pairs are matched.
| | |
| --- | --- |
| Make a List | |
Wednesday, 16 May 2007
Make a list of 10 non-related items. Put the list away for an hour. After an hour, write down as many items as you can recall. Compare the two lists.